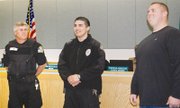 The Sunnyside City Council Monday by a split decision inked an agreement with Teamsters Local Union No. 760, representing the police support unit.
The agreement provides a 2.75 percent increase in the base wage for each year in 2010 and 2011 for corrections officers, a data entry clerk and dispatchers.
For 2012-14, personnel in those positions will receive a 3 percent base wage increase each year.
In addition, the city agreed to pay a 2 percent bi-lingual premium, and a 1.5 percent premium for field training officers and tactical officers.
The city will pay 60 percent of the employees' health care benefits in 2011, 65 percent in 2012 and 70 percent in 2013.
The police support staff will also receive added vacation after serving the Sunnyside Police Department 20 and 25 years.
Because he feels it is reasonable to ask employees to pay 50 percent of the medical premiums, Councilman Don Vlieger voted against the agreement.
The agreement passed by a 4-3 vote. The other two council members voting against it included Pablo Garcia and Mike Farmer.