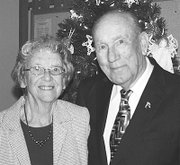 Jake and Rena Van Oostrum of Sunnyside will celebrate 60 years of wedded bliss May 11, 2011.
The couple was married at Wommels, Friesland in the Netherlands May 11, 1951.
They moved to Outlook in 1956 and lived there until 1972. At that time, the couple moved to Sunnyside, where they still reside.
A family dinner is planned in honor of the Van Oostrum's 60th wedding anniversary. Planning the event are the couple's five children and their families.
In addition to 13 grandchildren and five great-grandchildren, the Van Oostrum's children are Jantena (Robert) Bauman of Romulus, N.Y.; Bill (Beverly) Van Oostrum of Yakima; Anny (Ed) Prilucik of Sunnyside; Henry (Marilyn) Van Oostrum of Sunnyside; and Audrey (Don) Desserault of Grandview.
Mr. Van Oostrum retired after owning and operating Jake's Painting Service.
Mrs. Van Oostrum served as her husband's painting assistant and is currently retired.