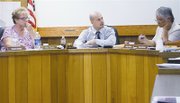 MABTON - In spite of some misgivings about work completed at the Mabton Civic Center, the city council last night signed off on its completion.
The civic center restroom facilities sustained water damage after a leak there.
The City of Mabton contracted with Belfor Construction Service to repair damaged flooring, knobs and walls inside the restroom.
The construction firm, said Mayor Angel Reyna, completed the work, as well as other work not required by the city.
A new vanity was installed and doors were replaced, according to various council members speaking at last night's meeting.
However, Councilwoman Vera Zavala and other female council members said the subcontractor for Belfor Construction Service installed a vanity that was too large for the space.
Councilwoman Sophia Sotelo asked if a homeowner would pay a contractor when work completed in their home was less than satisfactory.
Reyna said, "We're kind of in the piece where they completed the list of repairs asked of them and the extra work was less than pleasing."
He said the city was obligated to sign off on the repair work with hopes that any work that was less than satisfactory will be remedied.
"Let's not use them again," said Zavala.
Reyna agreed with the caveat that the repairs identified by the city were completed.
City Clerk Ret Stewart agreed, stating the construction firm replaced flooring, walls, faucet knobs and doors. She said she checked everything listed as in need of repairs.
"I'm not comfortable signing off because they know what they are doing and should have completed the work with quality in mind," said Sotelo.
The council authorized Reyna to sign the certificate of completion by a 4-1 vote. Sotelo was the lone council member to dissent.