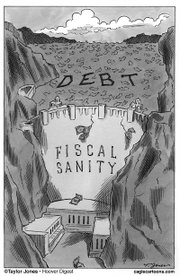 April 18 and April 12 marked two important days for Central Washington families: Tax Day and Tax Freedom Day.
These days are both reminders of the tremendous impact that decisions made in Washington D.C. have on Central Washington families, farmers and business.
Tax Freedom Day is the day the average American finally stops paying the government and takes home their paycheck-essentially every dollar earned up to April 12 covers an individual's federal tax burden. Onerous taxes in our federal government make it so Central Washington families work nearly three and a half months out of the year just to pay Uncle Sam. April 12 is just another reminder that the federal government suffers from a spending problem, not a tax revenue problem.
The 2011 tax day fell on April 18 this year and millions of Washingtonians wrote a check to the federal government, or saw how much of their annual income went to Uncle Sam-not into savings for your family or business, toward your mortgage or into the economy-all to Washington D.C. so bureaucrats can decide how your money should be spent.
Right now, too many of our friends, family members and neighbors are out of work, and the last thing that President Obama and Senate Democrats should do is demand that working families, investors and the small businesses that drive our economy send more money to Washington, D.C.
President Obama's most recent budget plan demands that families and small businesses pay even higher taxes. At a time when we need to get our fiscal house in order and create jobs, raising taxes would be detrimental to any economic recovery. Study after study show that tax increases slow the economy and do not create private sector jobs.
As a country, we have learned that the federal government's habit of taxing and spending does not create jobs or grow the economy, especially when so many Americans desperately need jobs and economic certainty.
House Republicans have passed a 'budget-blueprint' that will cut spending, strengthen our insolvent entitlement programs and tighten our belt so that the government can start to do more with less.
We also understand that cutting spending isn't enough to put America on the path to prosperity, which is why our budget also stresses fundamental tax reform. A more competitive tax system will get our economy going, create jobs and encourage private sector growth.
No American family wants their taxes raised-they want Washington D.C. to get its fiscal house in order so our children and grandchildren can enjoy the same American dream we did.
- U.S. Congressman Doc Hastings (R-Pasco) represents Central
Washington's Fourth
Congressional District.