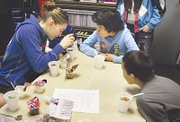 MABTON - Visitors walking into Julie Tyus' class on a Thursday morning might just be surprised by what they see.
Instead of students bent over obediently studying their lessons, the visitor would see many smiles on the faces of Tyus' students and hear lots of laughter.
Tyus, a special education teacher at Mabton's Artz-Fox Elementary School, and her students have been visited by a group of Mabton FFA members for the past four months, where they are taking part in a FFA project.
FFA members visit Tyus' class once a week to teach the elementary school students about agriculture as a community service project. This project is a part of the Forestry Agriculture and Resource Management program.
The Forestry Agriculture and Resource Management program encourages FFA chapters within Washington state to develop and implement "outreach" programs. These programs engage and ultimately educate K-6 students in their schools through activities or presentations they might choose.
The Mabton FFA chapter chose to deliver lessons on a variety of agricultural topics, such as animal science, horticulture, food science and environmental science.
Team members presented their lessons in an educational, yet fun way. For example, the team taught the students about the horizons of a soil profile by having the students create their own edible soil profile using Oreos, pudding and gummy worms.
The FFA team tried to get the students excited about agriculture by thinking up activities where Tyus' students could get a hands-on feel for what they were doing. According to the FFA team, working food into the equation helped, too.
"I was extremely impressed with the FFA group who worked so hard to create and teach hands-on science lessons for my students with special needs," said Tyus.
"The team made modifications and taught in a way that allowed my students to use their senses while learning. They were able to touch, smell, hear and taste while learning about agriculture. I would consider it an awesome experience for everyone involved!"
The FFA team, including this reporter, Jazzee Sustaita, Baylie Tyus, Carisma Diaz and Raiza Arreola, will present their project at the FFA State Convention on Saturday, May 14, in Pullman.
If the team can secure a top five placing, the Mabton FFA chapter will receive a scholarship that members are hoping will fund the 2012 project.
"This project has been very rewarding for us and we can't wait to do it next year," said Sustaita, project coordinator.
Nohemi Meza is a student at Mabton High School. She holds the position of reporter for the Mabton FFA Chapter.