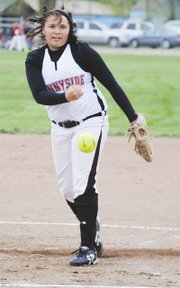 The Sunnyside Lady Grizzly softball team gave visiting Hanford a scare before losing 11-0 in game one and 13-1 in game two of a doubleheader yesterday, Wednesday.
The twin bill was a make-up of a previously scheduled date that was rained out. Both games went five innings.
In game one Sunnyside trailed just 3-0 after three innings and were within an out of holding the Falcons to that score through four innings.
But a two-out, bases-loaded fielding error opened the door and Hanford plated eight runs in the pivotal fourth frame.
"We were playing solid ball, except for that one big inning," said Coach Ralph Mendoza.
Sunnyside didn't help its cause by issuing nine free passes to Hanford batters. "We've got to throw strikes, if we don't we'll give up runs," the coach said.
Sunnyside's lone hit in the opener was a third inning single by Alexis Alvarez, who advanced as far as third base before she was stranded.
Marquisa Sustaita and Amber Cornwell shared pitching duties in game one for Sunnyside.
In the nightcap, the Falcons struck early with another big inning, posting six runs in the second frame.
Sunnyside plated its only run of the day with two outs in the bottom of the fifth and final inning when Sustaita delivered a pinch-hit RBI single to knock home Shawna Santini.
Maria Olivera collected two of Sunnyside's four hits in game two.
Rosa Garza went the distance in pitching for Sunnyside in game two.
The Lady Grizzlies (0-16) host Southridge this coming Friday.
"The girls have to keep their spirits up," said Mendoza. "They just have to keep battling."