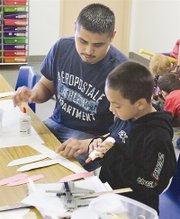 Ricardo Huecias wanted to design games for a living so it might be a little surprising to him and those who know Huecias that he's now working instead in child development.
Huecias works at Washington State Migrant Council as an early childhood education teacher, as well as at Learning Land Express Childcare and Pre-school. Both jobs are in Sunnyside.
Before this he was studying at the Art Institute of Seattle, where he was working on his Bachelor's of Art degree in gaming, art and design. The 2004 Mabton High School graduate is just one class shy of completing his degree.
But for now, the father of two daughters works five days a week in childcare. His main duty is to plan activities for the kids, which tend to be art activities, something that's close to his heart.
"I also help them out with their homework when they get out of school," he added.
At the migrant council he works with kids that are pre-kindergarten. Huecias said he helps develop the children's vocabulary, as well as help them figure out their letters and numbers.
"I help them with their motor skills," he said. "We get them ready for kindergarten."
Huecias said he is surprised that he is working with children.
"I have two daughters and I love playing with them," he said. "But I never expected to become a pre-school teacher.
"If it doesn't feel like a job then it's usually right," he said.
Huecias has fit in so well with his job that he is now thinking of going back to school and getting his Associate of Arts in childhood development.
But working with children has also done something else for him. Huecias now knows what he wants to do with his BA once he finishes up at the Art Institute of Seattle.
"I want to try to design something for kids," he said. "It won't necessarily be a video game, but a program to help with learning.
"I was struggling to figure out what to do with my BA when I get it," he said. "Working with these kids, I was able to figure it out."