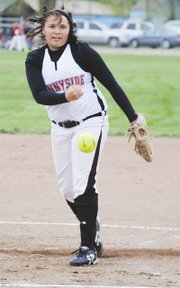 Numerous students at Harrison Middle School earned the distinction of being named to the school's honor roll for the third quarter.
Sixth grade students earning a perfect 4.0 GPA included Antonio Cienfuegos, Alexis Garcia, Guadalupe Navarro and Natalee Oxley.
Seventh grade students earning a perfect 4.0 GPA were Mikaela Chavez, Eric Cruz, Sheyanne Desmarais, Cole Gardner, Katya Gudino, Maloree Kupp, Madison Marro and Bernaldino Rangel.
Eighth grade students earning the same honor include Ashley Davis, Leah Diddens, Trajen Frank, Eric Guizar, Jasmine Paxton, Sarah Riti, Jordan Rodriguez and Karla Salazar.
Sixth grade students earning a GPA of 3.0 or higher were Cesar Aballi, Valeria Alamillo, Eneira Alcaide, Carolina Alcaraz, Alexis Amaro, Isaac Ayala, Franklin Barron, Daniel Benitez, Samuel Cardenas, Nancy Casas, Sara Casillas, Gerardo Chapina, Alberto Chavez, Jasmine Chavez, Santiago Chavez, Ulises Coria, Kylie De La O, Andrew Diddens, Jesus Escamilla, Janai Esqueda, Larissa Fuentes, Kathya Garcia, Teresa Garcia, Jacobo Gomez, Maira Gonzalez, Jason Gutierrez, Julio Hernandez, Samantha Herrera, Michael Hutchinson, Elizabeth Juarez, Christian Lamas, Rick Lee, Robert Longoria, Veronica Lopez, Jose de Madrigal, Emile Maldonado, Isidro Maldonado, Oralia Martinez Meraz, Jessica Mendoza, Jesus Mendoza, David Mercado, Juan Miguel Morales, Bryce Murphy, Hienschi Nguyen, Cassidy Ochoa, Rodrigo Orozco, Adan Pallares, Claudia Pena, Maria Pena, Elizavet Perez, Taran Perez, Gage Pezzullo, James Ponce, Jasmine Prieto, Javier Ramirez, Edgar Reyes, Hugo Reyes, Cassandra Rodriguez, Desmond Rodriguez, Jose Rodriguez, Miriam Ruiz, Noe Ruiz, Carolina Sagarnaga, Destiny Salinas, Adrian Sanchez, Alberto Sanchez, Guadalupe Solis, Zackary Spidle, Jaime Tellez, Denise Tlatelpa, Margarita Torres, Brenda Valadez Amezcua, Consuelo Valencia, Salvador Vasquez, Daniel Virgen, Desiree Yesdi Walker Sanchez, Jesus Walle, Tristan Watson and Samantha Zambrano.
Seventh grade students earning a spot on the honor roll included Elizabeth Adame-Garica, Elizabeth Del Aguinaga, Juan Arellano, Rosie Arteaga Cortez, Guillermo Benitez, Samuel Benitez, Brandon Bliesner, Adrian Brambila-Ramirez, Austin Brandsma, Diana Calderon-Sandoval, Cynthia Cardenas, Jacquelynn Casio, Salvador Casio, Rebecca Chavez, Jacob Chumley, Zoila Cisneros, Ebony Corona, Noemi Dominguez, Maria Espinosa, Esther Estrada, Clarissa Garcia, Jose Gonzalez, Sierra Gonzalez, Maria de Gutierrez, Angelica Hernandez, John Lee Kranz, Heidi Lancaster, Annie Lara, Angela Lee, Abigail Magana, Gerardo Martinez, Nayeli Martinez, Cindy Medina, Ely Monteil, Kennedy Morse, Julian Naranjo, Gilbert Navarro, Hazeal Negrete, Rosendo Nunez, Zachary Olson, Joel Perez Jr., Kimberly Perez-Maldonado, Francisco Quiroz, Esmeralda Ramos, Carolina Rangel, Ivan Romero, Liliana Romero, Jessica Ruiz, Leslie Ruiz, Angel Sanchez, Jobany Soberanes, Maritza Solares, April Tapia Gomez, Erika Valdez Villagomez, Carlos Valero, Ramon Vargas, Hilberto Vidaurri, Juan Villegas-Zaragoza and Samantha Zamora.
Eighth graders making the honor roll with a 3.0 GPA or higher included Ramon Alaniz, Jessica Alcaide, Gabrielle Alcantar, Maria Alvarez, Yadira Alvizo, Jessica Ambriz, Jocelyn Anguiano, Ulises Barron, Kayla Bautista, Natalia Bazan, Kalie Bestebreur, Shasta Bonewell, Bryan Bonny, Antonio Bravo-Godinez, Destiny Cantu, Emmanuel Carrillo, Linda Carrillo, Andre Cavazos, Gusmaro Chapina, Adriana Chavez, Diana Contreras, Carlos Correa, Lilibeth Cruz, Raul De Robles, Katherine Dye, Cecilia Espinoza, Brianna Estrada, Gabriela Estrada, Miguel Estrada, Cheyenne Fernandez, Cinthia Fernandez, Liliana Garcia, Maria Garcia, Sandra Garcia, Juan Garza, Margarita Gaspar, Andres Gomez, Salvador Guerrero, Mario Guizar, Luis Gurrola, Jeffrey Gutierrez, Katelyn Hazzard, Dion Hernandez, Miguel Hernandez, Xavier Hernandez, Yvonne Hernandez, Vianca Herrera, Jacqueline Kranz, Adolfo Leon, Elexis Lepe, David Lopez, Juan De Lopez, Maribel Lopez, Jasmine Lua, Itzel Lujan, Isaiah Lyczewski, Sandra Macias, Juan Madrigal, Selena Madrigal, Cosme Martinez, Stanley Martinez, Alan Medina, Angelica Mercado, Matthew Miller, Nathalie Moran, Christian Murphy, Juan Ochoa, Alexis Oxley, Alex Pallares, Cody Parke, Maria Paz, Jennifer Perez, Laura Perez, Mayra Perez, Tiana Perez, Sierra Pike, Nathen Rivera, Alexis Rocha, Jiovani Rodriguez, Samantha Rodriguez, Fredy Roman, Esmeralda Romero, Audrey Rosalez, Jynessa Rosalez, Devary Rubalcava, Selena Rubalcava, Rigoberto Sanchez Cardenas, Gizelle Sandoval, Valdemar Solorio, Braiden Sparrow, Alyson Spidle, Clarissa Suarez, Crystal Suarez, Yhitanni Tapia Gomez, Javier Tapia, Angelica Torres, Belen Torres, Jazel Trevino, Victor Valadez-Amezcua Jr., Janet Vargas, Ariel Verduzco, Danny Vidales, Izabella Vidriesca, Antonio Villanueva, Hong Yan and Daniela Zapata.