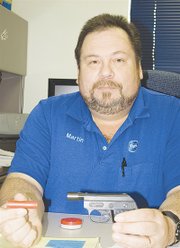 GRANDVIEW - The U.S. Bureau of Alcohol, Tobacco and Firearms (ATF) recently changed regulations regarding the use of explosive pest control devices.
Last November an open letter was sent to retailers, commercial growers, aviation industries and other organizations that may use "bird bombs," "whistlers" or "seal bombs."
The letter advises those organizations that a license from the ATF must be obtained to use, sell, ship or manufacture these devices, which are commonly used to protect crops, natural resources and aircraft from wildlife damage.
Locally, the Bleyhl Country Store in Grandview is the only Lower Valley licensed Bleyhl retailer that sells "bird bombs." Wilson Irrigation in Grandview is also licensed to sell the devices.
Bleyhl Store Manager Martin Aguilar is concerned because farmers who commonly purchase the devices, which are a pistol that discharges a loud noise emitted from a firecracker like shell, are indicating they may resort to using shotgun shells to scare birds intent on eating local crops.
"The licensing process is long and tedious...the farmers don't have time to obtain their license," said Aguilar, who was notified of the regulations by his supplier.
The regulations take effect this coming Sunday, May 1, and Aguilar said the bigger danger is not from the "bird bombs," but the possible shotgun shells farmers may resort to using.
"These 'bird bombs' are fairly benign...shotgun shells can be deadly," he said.
Aguilar said many family operated farms were not notified by the ATF of the regulations. His staff has been trying to educate customers of Bleyhl as they come in.
He hopes the farmers do not resort to the use of shotgun shells but a safer way to scare off wildlife.
"I might see an increase in sales of zonguns, which are propane operated," said Aguilar.
Zonguns are what many refer to as cannons and they emit a loud boom with the intent of scaring birds away from orchards.
Not only do the regulations for explosive pest control devices require a federal license, but the Bureau of Labor and Industries must approve storage for the devices.
"I think this is all 9-11 related," said Aguilar, stating he believes regulations that once exempted agriculture and aviation from obtaining a license have been tightened because of the events of Sept. 11, 2001.
He believes the ATF is worried about the threat of terrorism and has implemented tougher restrictions on several industries.
"But these ("bird bombs") are of little use other than to make a loud 'boom'," Aguilar said.
He said he spoke with the local ATF investigator, Matt Grimm, who also said the job of policing the new regulations is an enigma to him.
"It just doesn't make sense," said Aguilar, adding his primary concern is safety and the regulations result in the opposite effect.
The ATF has the authority to implement the regulations under the 1970 Organized Crime Control Act.
In 2002 regulations were implemented for explosive pest control devices because the devices contain black powder or other pyrotechnics.
The ATF, according to its own documentation provided on atf.gov, exempted licensing for agriculture and aviation in 2002 because "...consequently, the threat and damage to crops, aircraft, etc., may have long passed before a person with a legitimate need for the devices has obtained the necessary license or permit. In addition, thier requirement to obtain a license or permit can be cost prohibitive, particularly in instances where persons have only an intermittent need for using explosive pest control devices."
That was the result of the Safe Explosives Act passed that year in response to the terrorist attacks of Sept. 11, 2001, according to officials.
As a result of inspections conducted by the agency, agents were finding some regulations were confusing to distributors. That caused the ATF to issue its letter last November.
The open letter notifying the exemption is no longer in place and those selling, manufacturing or using explosive pest control devices must be licensed or permitted, according to officials.
Local ATF authorities were prohibited from providing information themselves, but officials in Washington, D.C. said the agency has sent out several press releases and newsletters to provide information to distributors since 2002.
Anyone wishing to obtain further details about the regulations can go online to the ATF website (www.atf.gov) and find information under the industry link.