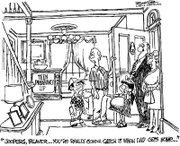 A big congratulation has to go out to Toppenish High School's Gaby Rodriguez. The whole nation is talking about the way she fooled her school into believing she was pregnant in order to examine her peers and teachers' response.
Gaby conducted this little experiment for her senior project, which will focus on stereotypes and rumors.
Ironically, Gaby's experiment this past school year has not ended with the revelation of her faked pregnancy last week. Online, commenters have remarked how Gabby wasted her senior year, the research was inconclusive or amateurish and therefore useless, and her lie was unforgivable.
It's remarkable to me how quick people are to criticize. The fact is, Gaby's project was remarkably well conceived. She discussed it with her principal and the school's superintendent. She told those people she knew she had to tell the truth to and knew that when the truth came out for all to hear, there would be hurt feelings.
But Gaby's project was intended to get people to look at the way they treated her when they thought she was pregnant. It highlights how people like to take facts at face value and allow it to color their opinions.
For example, when I was in elementary school, I was a bit of a bully. It isn't an easy thing to admit, but there it is. When I was younger, I had such a boisterous personality that I attracted followers. The followers listened to me, they did what I said and laughed at all my jokes, and that feeling gave me a sense of power.
In the sixth grade one of my favorite targets was a young girl in my class who was shy, quiet and poor. Everyone picked on her and as far as I know, she had no friends, in or outside the class.
Then I learned something terrible. That year, her little sister had died. She had been enduring the taunts of her peers while suffering from one of the greatest tragedies a family could undergo.
Well, needless to say, my bullying days were over. After my experience with that girl, I never again turned my sharp tongue on strangers. Instead, I endeavored to get to know them and understand their situation.
I am proud to say that I never once thought poorly of those who got pregnant in their teens. Instead, I provided support and advice.
I went through high school in a modern world, where these girls weren't ostracized from school and forced to abandon their education, but I still hear people say how these girls have ruined their lives.
It is a comment that Gaby heard from her peers. Though they knew she was a good student, they assumed she wouldn't attend college and her hopes and dreams were dead.
Now, that is an extraordinary stereotype. I've heard more often than not that teen moms stay single and wind up on welfare for the rest of their lives.
Not my mom. She was a teenager when she gave birth to my oldest sister in the 1970s. Though she certainly struggled, my mom eventually married (my wonderful father), got herself educated and became a nurse...the only career she ever wanted.
My mom did not ruin her life. Things were harder for her, yes, but it only made her stronger.
As a teenager and a young adult, I looked up to my mother and everything she accomplished. I often find myself saying how I can't complain about the challenges in my life because my mother went through it too, but with kids!
Stereotypes and rumors are something that hurt us all and I think Gaby's experiment was intended to highlight that fact.
It's unfortunate that so many people don't see that.