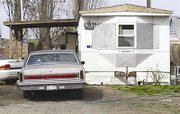 OUTLOOK - Diane Lopez, 17, of Outlook is dead today after being gunned down at the front door of her home at 10 First Avenue.
Sheriff's deputies say Lopez was shot at about 9:30 p.m. Thursday, when four people dressed in blue with blue bandanas covering their faces approached the mobile home in Outlook and knocked on the front door.
Lopez opened the door and was shot once in the side with a small caliber firearm, deputies reported. She was transported to Harborview Medical Center in Seattle, where she died from the gunshot wound early this morning.
Prior to the gunfire, Sheriff's deputies said the girl's mother broke a window in the home in an attempt to scare away the group when she saw them get out of their vehicle.
The mother was later treated for cuts to her arms at Sunnyside Community Hospital.
The Sunnyside Police Department assisted deputies at the murder scene.
In a press release, the Sheriff's office said it is treating the shooting death as a gang-related homicide based on "previous incidents at this location."
Those "incidents" include at least two prior shootings at the home in the past year. One was in January of this year and the other in April 2010.
No one was injured in the two previous shootings at 10 First Avenue.
Sheriff Ken Irwin said two male family members who no longer live at the home have "made it known that they are gang members."
He says they were probably the intended target of last night's shooting.
Irwin said even though the two males haven't lived at 10 First Avenue for months, "once a gang house always a gang house to opposing gang members."
He says it's a reminder to parents to keep their children and home free of gangs and illegal activities.
"It just goes to show that if you allow anything like that even one time on your property, horrible things can happen," he said.
Irwin said the shooting is unrelated to a death threat forwarded to the Sunnyside Police Department yesterday. That threat was anonymously sent to the Daily Sun News and targeted Sunnyside's 13th Street neighborhood.
Elsewhere in Sunnyside, Lopez's violent death is being felt today by Sunnyside's Promise officials who had worked with her. Nate Bridges is the non-profit's chair, and he said a case worker was assisting her.
"We know these kids are in conflict, it saddens us that we couldn't do whatever it took to prevent this," Bridges said. "I feel really bad for the family and our caseworkers because they take a real personal interest in the family."
He says Sunnyside's Promise is in shock over the slaying.
"It makes us focus even more on trying to get the kids we have out of harm's way as quickly as possible," Bridges said.
He was alarmed by the boldness of last night's shooting, as the four suspects walked up to the house in gang colors.
"We've seen drive-by shootings but this is pretty brazen," Bridges said. "This is an element we haven't seen in awhile."
Irwin agrees.
"That is unusual, there could have been a court action or a previous drive-by shooting elsewhere that we don't know about," he said of possible motives for the shooting.
Irwin said his office still does not have suspect information in the case beyond the clothing description. He said county detectives are investigating the homicide.
Anyone with information regarding the case is asked to call the Yakima County Sheriff's office at 509-574-2500 or the Yakima County Crime Stoppers at 509-248-9980.