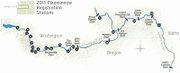 Help save young salmon and steelhead and win big money, too!
This Sunday, May 1, marks the beginning of the Northern Pikeminnow Sport Reward Fishery Program in the Columbia and Snake rivers, offering cash to anglers who catch the predatory fish.
Interested anglers can get information on pikeminnow fishing and learn the best techniques on-line at www.pikeminnow.org.
State fish and wildlife workers have specially tagged and released about 1,000 northern pikeminnow into the rivers worth $500 each.
The program also pays registered anglers $4 to $8 per fish, nine inches or longer.
The more fish an angler catches, the more each pikeminnow they hook is worth. Last year the top fisherman in the program earned more than $80,000 in just five-months of fishing.
Northern pikeminnow are voracious eaters, consuming millions of young salmon and steelhead each year. Research shows reducing pikeminnow numbers helps protect salmon and steelhead populations.
Since 1990, anglers paid through the program have removed nearly 4 million pikeminnow from the Columbia and Snake rivers reducing predation on young salmon and steelhead by 35 percent.
The 2011 season for the pikeminnow sport-reward fishery begins Sunday, May 1, and ends Sept. 30, 2011.
Pikeminnow season kicks off featuring an aquarium truck with live pikeminnow plus information on how to catch Northern pikeminnow and a chance to talk to a pikeminnow fisherman, Sunday, May 1, from 11 a.m to 1 p.m. at the M. James Gleason Memorial Boat Ramp on the Columbia River. Take exit 307 off of I-5, head east on NE Marine Drive. The boat ramp is across from Portland International Airport at 15475 Ferry Rd.
The program is administered by the Pacific States Marine Fisheries Commission and is funded by the Bonneville Power Administration.
For more information about the program call 800-858-9015 or visit www.pikeminnow.org