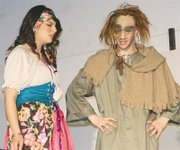 It's not often one will find me laughing out loud when I believe something is funny. However, that's exactly what I was doing last night while watching Sunnyside Christian High School's debut of its production, "The Hunchback of Notre Dame."
The one-liners are frequent, seemingly in every line of dialogue. Each of the cast members delivers his or her punch-line flawlessly.
There is not a single actor on the stage who outshines another as the comedic drama plays out, but I must say I was very impressed with each cast member.
The main characters, Quasimodo and Esmeralda, are portrayed by John Newhouse and Alex Laws.
Newhouse's Quasimodo is not as pathetically endearing as the classic character to which I have grown accustomed. He was hilarious and full of mannerisms that caused me to smile. Yes, he endures hardships and is just as disfigured as the classic character, but the humor in Newhouse's portrayal kept me from feeling terribly sad.
Laws portrays an interesting Esmeralda. She is smart and witty. I enjoyed her presence on stage and there were times I almost expected her to break out in a song, but there aren't any musical performances in this production.
Music was something I felt was lacking, although I realize Sunnyside Christian High School did not write the script. The characters and the overall delivery just had me anticipating song and dance...they were that good.
There are many delightful characters, including Pierre (Isiaha Rodriguez), Clopin (Ethan Householder), Bella Donna (Alexandra Newhouse) and Phoebus (Ryan Burton). And, the evil Dom Claude Frollo (Brent Tyhuis).
Audience members also had the opportunity to participate. Trudy Long, Devi Knotts and Jason Elenbaas all volunteered as terribly ugly people for the King of Fools title.
The characters do not mind their manners in this play. They blow raspberries, stick their tongues out and make rude faces when they disagree with another character.
Some lines delivered by Phoebus and Esmeralda, for example, are terribly cheesy. However, that is the intent, and the lines hit their mark...the funny bone of the audience members.
I was especially drawn to Pierre, a romantic poet. He delivers his lines at precisely the right moment...dialogue such as, "I'm French. We all smell funny."
Emily Werkhoven does play a fantastic sheep and her "baa" sounds so real.
The costumes, too, were wonderful. The gypsies are colorful and the beggars look pathetic. Dom Claude Frollo looks terribly evil and Quasimodo looks horrid. Those who are members of high society are appropriately fashioned for the 15th century social scene, as well.
The set is simple, and the stained glass windows of the Notre Dame Cathedral are very nicely painted in the fashion of the time.
There was little not to like in this production, which will be staged three more times.
Those who missed the debut can enjoy it either tonight (Friday) or tomorrow (Saturday). The show begins at 7 p.m. each night at Sunnyside Christian Elementary School. Also, Saturday there will be a matinee performance at 2 p.m.
Admission is $5 for adults, $3 for students.