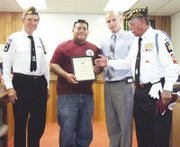 MABTON - Arnulfo Pizano III isn't accustomed to receiving recognition for his accomplishments.
He is someone who sometimes gets overlooked, according to Mabton VFW Post Quartermaster Manuel Soto.
This past month, however, members from the VFW post noticed Pizano cleaning up Mabton's Feezell Park.
"He takes the initiative for cleaning up his community during the Mabton Community Days festivities," said Linda Ontiveros.
Soto said Pizano doesn't have to do the things he does, but the young man leads by example.
Soto said, "It's refreshing...he doesn't do it for recognition, but because he believes it needs to be done."
Because he believed Pizano deserved some recognition, Soto contacted Mayor Angel Reyna. The pair decided to present Pizano with a certificate of recognition for his community service efforts.
That certificate was presented at the July 12 Mabton City Council meeting.