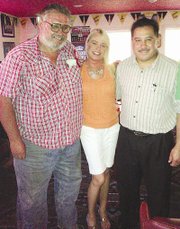 A friendly competition between Brittan Moore and John Wind last Friday was turned into a fundraiser that will help Sierra Vista Middle School student Maribel Estrada with her travels to Washington D.C. later this week.
The competition and a raffle for two Gabriel Burgers and two appetizer plates at El Valle netted $483 to benefit the 11-year-old's trip.
Estrada is set to be in the nation's capital for a leadership conference Saturday, Aug. 6, through Thursday, Aug. 11.
The youngster has raised money on her own, but Moore saw an opportunity last week to help someone local by taking part in an eating contest.
In approximately 90 minutes time, Wind was deemed the winner of the eating contest, having consumed a Gabriel Burger faster than Moore.
"John and I started this friendly challenge earlier this year since we are both big eaters, and I thought it was a great opportunity to turn it into something that could help someone...John showed up to eat his burger without the knowledge he was going to help a little girl along the way," said Moore.
She said Estrada and Isabel Castro, an ELL teacher at Sierra Vista, were present during the competition.
The patrons of El Valle enthusiastically responded to the pair's appearance, according to Moore. She said those present took the time to pitch in by purchasing raffle tickets.
Helping with the cause, hosting the event, were El Valle Restaurant owners Gabriel and Rosa Garcia.