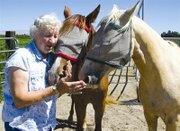 From the haystacks in her barn loft to the figurines in her home, horses are part and parcel of Martha Chism's life.
She has three horses on the two acres or so that she owns near Sunnyside, and a good part of her barn is dedicated to the care and feeding of those animals.
That includes not only hay, but oats and vitamins. She has laid out in orderly fashion feeding portions for the next week or so for her horses.
She even has a security system in place, complete with video, to ward off would-be thieves. Chism says it doesn't happen often, but that she has heard of cases where people steal newborn horses before the owners can establish proof of ownership on the animal.
What especially troubles her is the fate of domestic horses when summer gives way to winter weather and high feed prices.
Chism says she's heard from more than one person about how horse owners low on feed and cash during the winter leave their domestic animal in the Satus Pass area to fend for themselves.
There are wild horses in the Satus, but domestic horses don't have a chance if left alone, she says.
"Domesticated horses cannot make it in the wild," she says. "They're used to having water and feed provided for them. They won't survive."
Chism says she's seen for herself emaciated horses up in the Satus Pass area, left there without food or water.
Pat Kaley is the chief criminal deputy for Klickitat County, and he said his office doesn't have a case on file about the abandonment of wild horses in Satus Pass.
He noted a case last year involving some dead horses at Satus Pass was under the jurisdiction of Yakama Nation Tribal police since the nation's boundaries extend to that point.
As a result, Kaley said even though his office doesn't have reports of abandoned horses, "that's not to say it didn't happen."
A follow-up call to tribal police for this story was forwarded to tribal wildlife officials who refused to commen. They instead deferred to tribal council officials who were reportedly in meetings.
Whatever the status of domesticated horses at Satus, Chism says now is the time for horse owners to prepare for the winter season.
She estimates it costs about $600 to feed a horse during winter, when natural grazing fields may be unavailable due to snow and ice.
Beyond that, she says it's important to keep plenty of grains and vitamins on hand to supplement a horse's diet.
The bottom line, says Chism, is plan now so your horse doesn't suffer later.
"People shouldn't own what they can't take care of," she says. "They need to consider what it costs to feed and house horses."