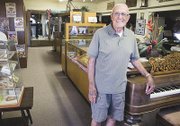 There was an era in downtown Sunnyside when neon lights flashed, calling out to folks looking for everything from dining to prescription drugs.
That era is gone, with the now darkened Golden Pheasant sign one of the last vestiges of downtown's neon age.
Currently, three of the old neon signs are in storage and a fourth - the Safari restaurant sign - was mothballed following a downtown fire three months ago.
Bill Flower is one of those who is helping with storage of the signs and he says displaying them would require a large space. He also suggested an idea of having an outdoor display area, where the signs could again light up the night air.
John Saras is one of the volunteers at the Sunnyside Museum, and he said the facility would love to someday house a neon sign exhibit.
The problem, he notes, is simply a lack of space in the museum.
"If we had adequate room we'd love to have the signs," Saras says.
He feels the long-term answer is to eventually construct a new building for the museum. Saras said it owns the vacant lot behind the existing museum, so there could be room for expansion.
Saras said there have been attempts to seek grant funding for a new building, but there weren't matching funds available.
As a result, Sunnysiders don't have access to a good bit of their local history.
Saras says that's because the shortage of space means not only closeting the neon signs, but many museum holdings from the city's past are also in storage due to lack of exhibit space.
"It'd be nice to have a bigger building, but in this economy it's wishful thinking," Saras said.