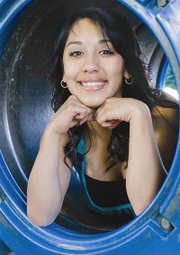 Stephanie Romero views the Miss Sunnyside court as an asset to the community.
She believes those who serve on the court have an innate love of the community they serve, and she has a desire to do the same.
Romero, soon-to-be a junior at Sunnyside High School, said she wants to represent her community as a role model to both younger children and her peers.
"Miss Sunnyside is a leadership role," she said, stating those serving on the Miss Sunnyside court have the ability to influence youth at the high school, as well as those who haven't yet become teenagers.
"I like to take on the challenge of leadership," said Romero, who is a leadership class student.
She said she wants to model positive attributes of today's teens, giving her peers someone to whom they can look when seeking the image of a person choosing to be responsible and positive.
Romero said, "I feel it is important to help others through community service."
Speaking of community service, she plans to work with Lower Valley Crisis and Support Services, if selected for the Miss Sunnyside title.
"I don't feel the community is fully aware of the services provided there," said Romero, stating she hopes to promote and educate the community about the role the center plays in the Lower Valley.
She believes there are some who have been exposed to domestic and/or sexual abuse, but don't realize there is an organization willing to help them.
"They don't realize it's not their fault...they don't know what to do and they feel scared and vulnerable," said Romero.
She wants to help those community members learn there is someone to whom they can turn and someone whom they can trust.
Romero is one of nine children of Sandra Martinez and Macario Romero.
She is active in Pep Club, Key Club, volleyball, track and Link Crew, as well as cheerleading for the SHS wrestling team.
She most enjoys cheerleading because she believes the wrestling team is like extended family since her family has been involved in wrestling programs for many years.
"The wrestlers also tell us they miss us when we don't attend an event," said Romero.
When asked about her plans for after high school, she said, "I'm not sure what I want to be, but I want to work in a career field that allows me to help others...maybe counseling,"
Romero added, "I like to listen to the problems of others...I may not always have a proper solution, but I like to listen and help them come up with a possible solution."
She plans to perform a jazz dance routine to the song "Tough Lover" by Christina Aguilera at this year's pageant, scheduled for Saturday, Sept. 17, at 7 p.m.
"The routine has different choreography," said Romero.
Her sponsors for the Miss Sunnyside Pageant are Studio 242, Jim Bekner Allstate Insurance, Morris Floral and Napa Valley Auto Parts.