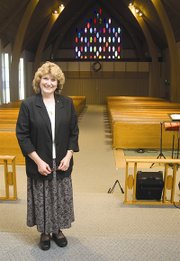 Barely a month on the job, Rev. Pat Beeman is the new pastor at Sunnyside United Methodist Church.
She's been in the ministry for nearly 30 years and comes to Sunnyside from Goldendale, where she had served nine years as pastor.
Beeman said in the United Methodist Church bishops instruct pastors which churches to serve. While she ultimately had a choice to stay or go, she ultimately agreed to come to Sunnyside because "this seemed like a new challenge."
She says she's already met several people in the community in addition to the parishioners at her Sunnyside church.
"It's a very friendly community," Beeman smiled. "There are wonderful people in the church and the community as a whole."
She says one of her priorities is to get better acquainted with more people in the Sunnyside community. That includes visiting with hospital, police, fire and school officials to gain a better sense of Sunnyside and its needs.
"You hear about gangs in Sunnyside. I'd like to know more about the local perspective and see how the church can help," says Beeman.
Involvement in the community might also include helping to form a community choir to sing during Christmas and other holidays.
Though she's not a musician, Beeman helped organize a Good Friday community concert when she was in Goldendale.
As for her new congregation, Beeman says a focus is on helping the church to grow.
"At one time this was a huge congregation," she says of the church's expansive sanctuary. "It's dwindled down to a couple hundred of people. I want to try and help build it back up."
Beeman's career wasn't always as a pastor helping to grow churches.
In fact, it represented a significant change from her former career as an environmental health inspector. Her work experience other than as a pastor also includes time in social work.
Beeman says she'd always been active in church, but the call to ministry was one she finally had to address.
"I felt I couldn't ignore it anymore," she says.
Today she notes that past experience in the work world has served her well in ministering to others.
"It helps me relate to people in my ministry," Beeman says. Her role in that ministry, she adds, "is helping the people find their ministry, to help them hear what God wants them to do."