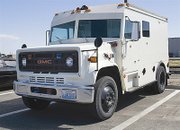 To make Sunnyside's newest SWAT vehicle road worthy there are a few alterations that must be completed.
The vehicle was acquired last year from the Seattle Police Department, according to Sunnyside Public Information Officer Charlotte Hinderlider.
She and Sgt. Jeff Cunningham went through a six-month process to obtain the vehicle, which didn't cost the city of Sunnyside any money.
When the vehicle was acquired, it was announced at a city council meeting the Seattle Police Department gave it to Sunnyside because Seattle received grant funds for the purchase of another SWAT vehicle.
However, receiving a vehicle of its kind at no cost has its drawbacks.
The vehicle doesn't have sufficient seating for Sunnyside's SWAT officers, according to Hinderlider.
She also noted, "It needs to be painted up to the standards of the rest of the PD fleet."
Maintenance on the vehicle hasn't yet begun due to a lack of staffing and funds, as well.
Hinderlider said funds to make the vehicle road worthy will come from the SWAT and drug funds, as well as from donations to the police department.
"We would like to start ASAP, unfortunately we haven't had the manpower or funds to do either," said Hinderlider.