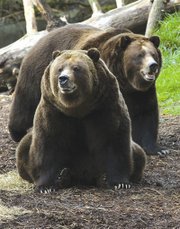 SEATTLE - Slow mornings, work desk lunch breaks and afternoons that drag on forever just got 1,350 pounds more exciting.
That's because Woodland Park Zoo's grizzly bear brothers are back in the internet spotlight with the re-launch of the zoo's popular, live Bear Cam.
Dedicated viewers have waited for more than a year for the return of the Bear Cam, which is now back with 24/7 live online video made possible by the zoo's exclusive partnership with Ustream.
The newly-launched Bear Cam feed provides incredible views of the spontaneous environment and can be accessed at www.zoo.org/bearcam.
Viewers can also choose to join in on the active social stream and chat room with other Bear Cam fans while tuning in at http://www.ustream.tv/woodlandparkzoo, which is also available whenever connected to Ustream on mobile devices, Internet connected TVs, Google TV and Boxee.
On a typical day, Woodland Park Zoo's 17-year-old grizzly bear brothers Keema and Denali can be seen foraging for food, fishing for live trout and exploring the stimulating sights and smells in the zoo's award-winning Northern Trail exhibit.
Approximately 675 pounds each in their trim summer months, the brothers can weigh up to 950 pounds each when they put on weight for their more dormant winter months.
Want to know the best times to tune in to the Bear Cam? The bears are especially active in the morning around 10 to 11 a.m. and in the afternoon around 2 or 3 p.m., particularly during the summer months.
Grizzly bears are an endangered species in the lower 48 contiguous United States. Woodland Park Zoo partners with the Grizzly Bear Outreach Project to protect bears and teach local communities how to live in harmony with the animals.