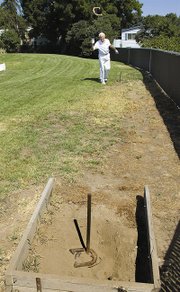 GRANDVIEW - Clang, clang, clang. One after another horseshoe ringers ring out at the Grandview lawn of Russ Phillips.
Practice makes perfect, or very near it, as Phillips recently claimed the world horseshoe pitching title in the 70-and-older division during competition at Monroe, La.
Last year the 73-year-old placed fifth in the same division.
The difference this year, he says, came down to confidence as the field of hundreds of competitors was narrowed to just 16 finalists.
"I knew I was better than everyone else," he smiled. That knowledge is based on Phillips' world-best average of hitting ringers on 87 percent of his throws in 70-and-older competition.
In practice he figures he hits ringers about 90 percent of the time.
Though this was his first world title, the wall of Phillips' home is plastered with plaques boasting state and northwest pitching titles in both the open division for all ages, as well as the 70-plus division.
Phillips says he had to switch to the 70-plus competition because the 40-foot throwing distance in the open division was too much for his sore shoulder.
The division he competes in now has a throwing range of 30 feet.
Phillips has had a life-long interest in horseshoe pitching, but credits pitching lessons from Elmer Schilperoort almost 15 years ago for getting him started in competition.
Each year he competes in 35 pitching tourneys around the country. That includes two at Sunnyside's South Hill Park, one in May and one coming up next month.
Phillips says he's committed to the sport, and the traveling that goes with it, not just for titles and trophies.
"It's the people that get you into pitching horseshoes," he smiled. "They're great people, super to be around."