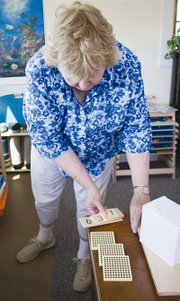 To some the Montessori educational experience might not be so new, but there hasn't been such a school in Sunnyside in recent years.
That's about to change because Merritt Mitchell-Wajeeh is expanding the educational opportunities at Heavenly Hills Harvest, a farm on South Emerald Road.
She said the one-room school will ideally serve as an after-school enrichment program for elementary school students.
"This is the third year of a five-year project," said Mitchell-Wajeeh.
About three years ago, she began operating her family's farm as a Community Supported Agriculture (CSA) farm with the hopes of educating the community regarding organic farming and gardening.
"This year, the focus is on children. We opened a children's garden and are ready for input from parents wanting to provide their children a Montessori experience," said Mitchell-Wajeeh.
She used to teach youngsters at an aquarium in Florida and that experience, as well as her background as an environmental scientist, led her to seek opportunities for educating others.
"I have a real heart for children," said Mitchell-Wajeeh, who is a mother of two young sons.
The Montessori experience is about nurturing children's natural curiosity in a calm, peaceful classroom environment. Children are able to learn at their own pace, according to their unique learning style.
Helping Mitchell-Wajeeh with the school is her mother, Brooks Mitchell.
She was a Montessori school teacher for many years and has helped obtain the learning materials for the classroom at Heavenly Hills Harvest.
"With the materials, youngsters can choose (to learn)," said Mitchell.
She said mathematics, for instance, is taught using a series of blocks and beads that are grouped in accordance with ones, tens, hundreds and thousands.
"They begin to see patterns," Mitchell said, demonstrating how the "golden bead system" works.
She said mathematics is not the only subject taught to students. Reading, writing, life sciences and geography are also included.
Mitchell-Wajeeh said, "It's very hands-on."
Her mother added, "Writing and reading is very phonetic...by learning to write words, the youngsters learn to read them. We use a lot of tools like letter systems to help the youngsters learn."
She said, "Children have a natural inclination to learn."
Mitchell-Wajeeh said the school will tie in with the eco-education element of the farm because they will be able to learn about the world around them by seeing first-hand the growth patterns of plants, animals and insects.
She said, "Children need to be in a place that stimulates the mind and spirit...children who have available to them carefully designed materials that capture their interest and quickly involve them, increase their vocabulary and understanding of the world."
The pair said the goal of the Montessori program at Heavenly Hills Harvest is to help youngsters explore their own capabilities and creative thinking skills through practical measures.
For more information or to provide input, Mitchell-Wajeeh is interested in hearing from the community. She can be contacted at 840-5600.