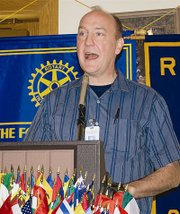 After approximately two months settling into his new duties at Sunnyside Community Hospital, Dave Olson is feeling confident about the relationships he's developing there.
The chief operations officer said he is an optimist and has taken on every position he has held with fervor.
"Being in health care in this community is challenging because many of the patients are on Medicare or Medicaid," said Olson at Monday's Sunnyside Noon Rotary Club meeting.
He moved to Sunnyside from the Clackamas, Ore. area. While living there, he was the director of strategic planning for Providence Health Services in Portland.
Olson said he made the change because he didn't feel his duties in Oregon fit his reasons for entering the health care field.
He told the Rotarians he believes he can help Sunnyside Community Hospital, which is highly regarded in the community, improve its relationship with the community.
Olson said he is confident in the hospital's mission and metrics, which are aimed at quality patient care.
He believes there is more that can be done, however.
"I'm looking forward to improving the level of greatness at Sunnyside Community Hospital," said Olson.
To do that, he said, he wants to develop more trust between staff members and the community. He has accomplished that elsewhere and said the outcome can be more than some might believe is possible.
At Harrison Medical Center in Bremerton, Olson learned just how important trust and relationships can be. He was part of a team effort that was instrumental in developing an open heart surgery program at the Bremerton health care facility.
"To develop it, we collaborated with the University of Washington," said Olson, giving a coworker who grew up in Grandview and started her career at Sunnyside Community Hospital credit for her efforts.
He said the results were outstanding and the health care facility has received national recognition. Community members who once believed quality health care could only be found in Seattle now recognize they can receive it in their local medical facility.
That is what Olson hopes can be accomplished in Sunnyside...community members recognizing they don't have to travel long distances for the care they need.