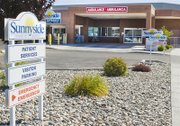 Sometime in the next couple of months Sunnyside Community Hospital will be among those participating in a state-wide emergency response program for cardiac and stroke patients.
Called the Emergency Cardiac and Stroke System, the focus is reducing the time it takes for people having a heart attack or a stroke to get medical attention.
The system, being launched in phases across the state, is modeled on this state's trauma system.
"Each minute is critical to get the right treatment for stroke, heart attack and cardiac arrest," said Secretary of Health Mary Selecky. "The new system speeds up access to life-saving treatment."
Last year the state passed a law to create a formal cardiac and stroke system of care to improve the ability to get people to life-saving treatment in time.
This new system, state officials say, is especially important to our state's rural communities.
The state contends that, compared to urban areas, rural communities have fewer resources and specialists, such as cardiologists and neurologists, to respond to and treat heart attack and stroke.
Marla Davis is the ER director for Sunnyside Community Hospital, and she says the facility recently applied to be part of the stroke/cardiac system.
"The state is trying to improve the process of how patients are transferred, outlining policies if a patient presents with certain conditions, then they are sent to a specific hospital," says Davis.
She noted it will take a couple of months for the hospital's application to be processed and finalized for inclusion in the state list of hospitals in the new cardiac/stroke system.
Davis said Sunnyside Community Hospital will be a Level 2 cardiac center, which can treat acute or serious coronary symptoms, then stabilize and transfer the patient to a Level 1 facility, the highest available, such as Yakima Regional Medical and Cardiac Center or Kadlec Regional Medical Center in Richland.
"It's based on how long the patient has had the complaint," Davis said.
As for stroke patients, Davis said Sunnyside Community Hospital will be at the third tier of a three-level system, qualifying the hospital as "acute stroke capable."
As with the cardiac centers, Sunnyside's hospital would stabilize and then transfer those with acute or serious stroke symptoms to a Level 1 or Level 2 stroke facility.
In south central Washington there are no Level 1 Comprensive Stroke Centers, according to state guidelines.
The Level 2 category stroke facilities, known as Primary Stroke Centers, in our area are in Toppenish, Yakima, Ellensburg, Kennewick, Richland and Walla Walla.
Davis says the cardiac and stroke level category for each hospital is based on a set of state-established criteria that must be met.
For example, a Level 3 stroke center, like Sunnyside, must have a neurologist or physician experienced in cerebrovascular care on-site or available via telemedicine (phone or video conferencing) within 20 minutes after the patient's arrival.
A Level 1 stroke center must have a neurologist on-site within 20 minutes and a neurosurgeon available within 30 minutes.
Davis says the state hopes to get all hospitals plugged into the new cardiac/stroke system.
"The state is working on getting everyone on board for patient care, a system set up for every facility," she said.