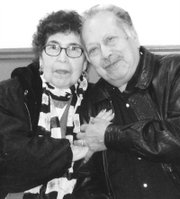 This past Saturday, Aug. 6, Jose and Helen Cardenas celebrated 60 years of marriage.
The couple was married in 1951 and raised six children in Sunnyside. They include Syl, Sally, Joe, Sandy, David and Yolanda.
The pair has lived in the area since 1947.
A celebration in the couple's honor was held at the Sunnyside Eagles Aerie Lodge this past Saturday.
Celebrating with them were their children, 15 grandchildren and 17 great-grandchildren.