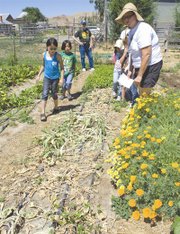 Heavenly Hills Harvest, a farm on Sunnyside's South Emerald Road, is an educational center for young and old alike.
Recently the farm opened a children's garden, featuring planting beds, a water feature and a desert sand box to provide youngsters visiting the farm a hands-on experience, all designed to learn about growing foods. The garden has been named the Wagowetz Children's Garden.
The farm is regularly available for tours, but visitors can enjoy planting and harvesting their own vegetables, as well.
Heavenly Hills Harvest is operated by Sam Wajeeh and his wife, Merritt Mitchell-Wajeeh.
"We grow mixed vegetables and flowers here," she said, stating the farm is a community supported agriculture (CSA) endeavor.
Mitchell-Wajeeh believes in educating community members about foods and how they are grown.
She is involved in Slow Food, which is an organization that encourages citizens to grow their own food in addition to tracking heirloom varieties of vegetables.
Mitchell-Wajeeh's farm is also an experimental center working closely with Washington state's Natural Resources Conservation Service.
The flowers grown at the farm are purposeful, as well. Grown are several varieties of flowers that attract beneficial insects.
Mitchell-Wajeeh said the goal is to have a highly productive garden with few pests.
"As an organic farm, there is always a need for volunteers to pull weeds," said Mitchell-Wajeeh regarding the many opportunities for community members to get involved at Heavenly Hills Harvest.
She said there are work-share opportunities for those wishing to have "good, accessible food" at their disposal.
Mitchell-Wajeeh has a heart for education and combined her passions with her background as an environmental scientist to develop the farm that sits on 91 acres of land.
The farm is in its third year of operation and the garden is open for 24 weeks each year.
In addition to helping others learn about the foods they grow, the Wajeehs host wine dinners and have plans of hosting chef dinners, utilizing some of the vegetables grown in the garden, which includes approximately 18 raised beds.
There are several types of lettuce, tomatoes and peppers, as well as many other vegetables one might enjoy grown in the gardens at Heavenly Hills Harvest.
One need only think of their favorite produce items, and most likely it can be found.
"Basil is my favorite herb," said Mitchell-Wajeeh on a tour provided for youngsters visiting the open house for the children's garden.
She said the opportunities for children to grow and learn won't stop with the garden. There are planned activities and animals on the farm that the children can learn about, as well.
"Everything is developing and growing...one thing is for certain, my children love vegetables," Mitchell-Wajeeh said.