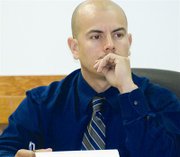 MABTON - Mabton Fire Chief Luke Cussins last night told the Mabton City Council his volunteer firefighter numbers are dwindling.
Currently, he said, there are 14 volunteers working for the fire department, and he is concerned.
The need for more volunteers is pretty dire, according to Cussins.
He said the fire department sometimes cannot respond to a call in the fire truck because there aren't enough drivers. To drive a fire truck, one must be 21-years-old or older.
"Volunteers among the younger generation are hard to find," said Cussins.
He said the younger generation may not take the time to volunteer because of other activities and responsibilities.
However, the numbers don't lie and the fire department's need is apparent, he said.