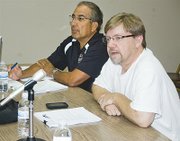 GRANDVIEW - Just a few weeks after its formation, Grandview EDGE (enhancing development in Grandview's economy) took another step forward last night by partnering with New Vision.
Tuesday night's action by the Grandview City Council enables EDGE to participate in a new entrepreneurial friendly cities initiative at New Vision, also called the Yakima County Development Association.
The program, which also works with Heritage University, will seek grant funding to help spur new business in Grandview.
Brad Smith, chair of Grandview's EDGE, said another aspect of the program is that interns from Heritage could help man the chamber of commerce office.
Smith noted the downtown revitalization project in Grandview was a catalyst to get EDGE started.
Grandview and EDGE will be one of four cities in the county with less than 20,000 people to participate in New Vision's entrepreneurial program.
Mayor Norm Childress said he likes the direction EDGE is going, noting the city wants to be a "stakeholder, not the driving force" behind the effort.
EDGE consists of a far-reaching partnership between the city, YVCC, the Port of Grandview, the Grandview School District as well as area businesses.
Childress says the partnership is not in name only.
"Some of the partners are willing to bring some funding to make it happen," he said.