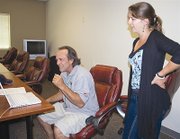 Some may look at a custodian, thinking they just clean up after everyone else.
While that may be true in some cases, Clayton Febus doesn't limit his duties at the Sunnyside Community Center to cleaning and maintenance.
He enjoys interacting with the youth there.
"I know that I might be able to make a positive impact on their life," Febus said.
He cleans, does minor repairs and rounds up the stray youngsters on occasion.
"Each day is different and I try to spend time with the youth...I look forward to that time when I am done with my daily checklist," said Febus.
He has been working for Sunnyside's Promise as the custodian at the community center since its doors re-opened last year.
Febus thoroughly views the responsibilities he holds as an opportunity to make a difference in the lives of Sunnyside's youngsters.
He supervises youth completing community service hours and that is when he feels he has an opportunity to really reach out and help a youngster.
"I really hope I make a difference, but it's up to them," said Febus, sharing some of those under his supervision have to serve community service hours for school credits and others have been in trouble.
He said it can be both challenging and rewarding working with youngsters because they all have different backgrounds. His goal is to show them life isn't always what one would expect, but perseverance will bring with it rewards.
Febus used the example of a youngster playing a game. That youngster didn't easily adapt to the rules of the game and was upset whenever he was "out."
"I tried to talk to him about the fact that we aren't always going to be the winner, but we can win through character," said Febus.
Although some may feel his cleaning duties are mundane, he said everything he does is a chance to improve his community and the environment around him.
Febus said there is a certain pride in providing a safe, clean environment for children and community members using the center.
"Before this I worked a lot of different jobs," he said, stating he was a handyman who worked in construction, landscaping and on farms.
Febus' job at the community center combines those skills with his heart for youth and he wouldn't have it any other way.