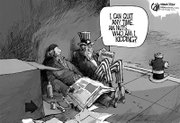 Last November, the American people sent a clear message to Washington, D.C. that Congressional Democrats and President Obama cannot use the American people as an endless supply of stimulus, bailouts and wasteful spending.
When the debate over raising the debt limit began, President Obama demanded a $2.5 trillion increase with no efforts to rein in federal spending and address our nation's record deficits. When Republicans said that a blank check was not an option, the President agreed to some spending cuts, but demanded that they be accompanied by a tax increase on American families and small businesses. The Republican majority made it clear that we would only accept a deal if it had more cuts than increases and included no new taxes.
After weeks of negotiations, the House of Representatives passed the Budget Control Act of 2011 on Aug. 1. The Budget Control Act is a two-step approach to hold President Obama accountable on our nation's mounting debt problem. This is not the bill I would have written and it is not the bill that Congress would be considering if Republicans controlled more than one-half of one-third of Washington, D.C.
That said, this bill cuts government spending more than it increases the debt limit, averts a credit default, caps federal spending and paves the way for a balanced budget amendment to the Constitution. Ever since I came to Washington, D.C., I have long supported a balanced budget amendment to ensure our fiscal house is in order.
The Republican majority came to change the way Washington, D.C. operates, and although this is not a perfect piece of legislation, I think we should be satisfied that there are incremental victories here considering Democrats control the Senate and the White House. This bill has zero tax increases, mandates more than $2.5 trillion in cuts to government spending - which means more cuts than increases to the debt ceiling, guarantees a vote on the balanced budget amendment, and imposes caps that set stringent limits on future spending.
Ronald Reagan once said, "In politics, if you can get 80 percent of what you want, take it!," and although there is much more work to be done, this bill achieved a strong message to President Obama that the American people need real leadership to balance our budget for the well being of our nation and for future generations.
- U.S. Congressman Doc Hastings (R-Pasco) represents Central
Washington's Fourth Congressional District.