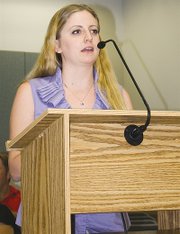 Sunnyside's new crime analyst, Courtney Percival, has been busy at work for just more than two weeks and already has been diligent in her duties.
After moving to Prosser a few months ago, she began following the Sunnyside City Council's progress on approving the crime analyst position.
As a graduate of Portland State University with a Bachelor's degree in criminology and a certificate in advanced crime analysis, the crime analyst position was exactly what Percival had been hoping to find.
"I was excited when it was approved," she said, stating she applied for the position as soon as it was posted.
"There aren't many opportunities for such a position...it's rather unique," said Percival.
She said there are several crime analysts working for police departments in the Tri-Cities, but smaller communities like Sunnyside don't often have such positions available.
"I'm fortunate I didn't have to look long to find a job in my chosen field," said Percival, adding, "The timing was really right...it was bizarre how convenient it was."
Percival said her first choice of a career when she entered college was forensics, but after taking several statistics classes she found her "true passion."
She liked the idea of helping law enforcement officers compile data to make sense of it all.
In the two weeks she has been at the Sunnyside Police Department, Percival has compiled data and created files for cross-referencing known gang members and rental housing in the community.
Percival also created files that tell police which rental properties are registered with the crime-free rental housing program and those that still have to register.
"It is important for determining which properties are vulnerable," she said.
"All the information was available, but the police department didn't have a way of making sense of it."
Percival said she feels the department now has a better grasp on which properties are most vulnerable to criminal activity.
"It will always keep me busy because as Sunnyside grows so will the number of rentals," she said.
Percival said she intends to also compile data on shootings in Sunnyside for cross-referencing.
"That helps police target areas at potential risk," she said, adding, "I put it all together in a comprehensive manner."
Percival is pleased she was selected for the position in Sunnyside. She said she looks forward to going to work each day and is impressed with the dedicated individuals with whom she works each day.