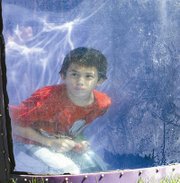 GRANDVIEW - The Yakima Valley Fair and Rodeo in Grandview is the place to be this week and the fair and rodeo board is hoping community members will turn out to support the youngsters showing livestock and exhibits there.
In addition to the usual vendors, food, exhibits, entertainment and animals fairgoers are likely to see, the Yakima Valley Fair and Rodeo board is holding a raffle for those attending the fair.
Starting yesterday (Wednesday) raffle items, which include a storage shed, Adirondack furniture, a patio furniture set with a water fountain, a fire pit and a deluxe barbecue grill, are on display.
"The storage shed is even wired for electricity," said Fair Board President Yvonne Graham.
She said the items being raffled were provided by Grandview Lumber Co., Graham Construction, Sunnyside Ace Hardware and Ranch & Home.
"The raffle benefits improvements and updates to the livestock barns," said Graham.
She said last year's raffle proceeds allowed the rewiring of electricity and installation of lights in the beef cattle barn.
"Our goal is to raise $3,000 this year," said Graham.
She has for years supported the Yakima Valley Fair and Rodeo and was an exhibitor in her younger days. Her husband, Luke, was a Zillah FFA chapter member in his youth.
The couple supports the fair and rodeo, and organized the raffle for the first time last year.
Mrs. Graham said the success of that raffle led them to organize another this year.
"We also organize the equipment auction," she said.
"We really have a heart for the fair."
The livestock barns are at least 20-years-old and are in need of many updates.
The Grahams are hoping to complete those updates with community support.
In addition to the raffle, there is a dunk tank on site at the Yakima Valley Fair and Rodeo.
Any proceeds from those choosing to try their hand at dunking an individual will also benefit the livestock barn upgrades.
Graham said individuals can volunteer to be the dunkee (children must have parents sign a waiver) or they can pay $1 for five chances to dunk the person sitting on the platform.
The dunk tank was provided by Sunnyside's Just Ask Rentals at a discount rate.
"We are paying the one-day rental fee and getting it all four days," said Graham.
"Our hope is the community will come out, have some fun and help us to upgrade the barns for the kids," she said.