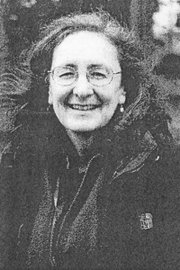 A Seattle author has words of hope for those on the sunny side of 30. Life gets better as one ages, according to Wendy Lustbader, who has been hanging out with older people, their families and caregivers for more years than some of her readers have lived.
Lustbader has penned a handy hardback of 230 pages that presents the idea that getting older is an adventure, albeit not necessarily an easy one to maneuver.
She is a three-time author, a professor and a social worker who has dedicated her career to the art of aging. Her optimistic view of growing older has given hope to those who are still early on the journey. Lustbader once told a busload of young people, "Don't worry - these are the worst years of your lives."
She tells us that she delivered that message - and wrote the book Life Gets Better: The Unexpected Pleasures of Growing Older - to confront the pervasive stereotype that 18-24 are the best years of a person's life. That is a premise she heartily rejects.
But what about the stereotype that the years turn golden after a person hits 60?
Lustbader wisely steers clear of the Golden Years image. In fact, she admits that ill health can dampen the adventure. But she is adamant that people "grow in self-knowledge" as they get older, that they "derive valuable insight" from their mistakes and misadventures and "gain confidence" with every difficulty they surmount.
When I told my son about these assets of long life, he quipped, "What about the ones who don't learn those things?"
The kid could have a point. Could that be when depression, insomnia and agoraphobia come into play?
Lustbader doesn't hesitate to discuss depression and even the need of some elders to crawl into the safety of their shells that keep them from the world beyond their doors. However, what Lustbader does not do is offer her readers solutions. Because, she writes, "...the process of aging is not posed as a problem but rather as a burgeoning opportunity."
What she does give readers throughout her book is a heavy sprinkling of personal insights from men and women who have taken the years life has given them and turned them into that adventure Lustbader promises is ours, if we will accept it as such.
The bit of wisdom I liked best in the book came from a 94-year-old woman that Lustbader quoted as saying: "At one time I read a definition of old age as being 'the sad process of going down a corridor watching the doors close as you go forward'. But my experience has been that my old age has been an opportunity to see myself going toward the light with doors opening on both sides of the corridor as I go forward."
Going forward and making the best of what lies behind those doors seem to be the crux of Lustbader's book. When she writes of self-knowledge, Lustbader talks about becoming more and more of whom one really is as one becomes older and about reaching out for the aspects of one's life that really are within one's reach if one isn't afraid to stretch.
When she writes of gratitude, Lustbader quotes a 69-year-old woman in a wheelchair: "I am grateful for all the bad things that have never happened to me." That's food for thought.
Lustbader gives us a lot on which to nibble. Much of it comes from these elders she encloses within her pages. They tell the readers that some of the great things about aging are loosening up, taking things easier, knowing who you are, not worrying about what others think of you and becoming more skilled in the art of compromise.
Lustbader presents her ideas on the aging process in the scholarly manner of the university professor that she is, but also with the sensitivity and compassion of the social worker she also is.
Life Gets Better: The Unexpected Pleasures of Growing Older will probably surface at your library, but I found it was really too much to absorb at one sitting. This is the kind of book that serves well as a permanent fixture on your own book shelf, so it can be referred to again and again.
Published by the Penguin Group, Lustbader's book goes on sale Aug. 18 for $25.95.
- Frances Potts, a retired journalist, is the author of "The Diary" (www.francespotts.com).