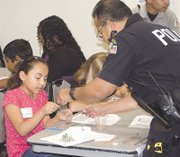 What do cocoa powder, balloons and packing tape have in common? No, this is not a riddle. These are some tools that were used by participants at the CSI camp in Sunnyside.
Children ages 9-13 were invited to join the fun at the Sunnyside Community Center Thursday, Aug. 11, and Friday, Aug. 12. The educational event was sponsored by Sunnyside's Promise and the Sunnyside Police Department.
18 youngsters came out Thursday to participate in learning more about what happens behind police caution tape. They also enjoyed the company of eight of Sunnyside's finest. Officer Melissa Rodriguez led the class with Officer Sam Ramos there to help. There were also six Police Explorers on hand to help out with the event.
Rodriguez began asking the kids why they decided to attend. While the majority of them answered positively, there were a few with comments such as, "My Dad made me come". However, by the end of class they all said they enjoyed the camp by naming specific things they liked.
The kids studied the three different kind of fingerprints; whorl, arch and loop. They looked for common characteristics in fingerprints to tell them apart. Participants examined some prints to figure out who the "thief" was in the Crime Fighting Challenge. "No two fingerprints are the same," Rodriguez said.
They dusted for fingerprints with cocoa powder on glass, Officer Rodriguez's SUV and a police van. They placed packing tape over the dusted print and carefully peeled it off. After having successfully dusted and lifted fingerprints they placed their own fingerprint on a balloon. They were able to see the detail of their print by blowing up the balloon that magnified the fingerprint.
Prizes were given to the most attentive and hard working out of the group. More will be rewarded today (Friday). Today they will be getting a little dirtier. They will be examining substances, such as studying blood splatters. They might also look at writing samples.
Rodriguez said that the goal of the event was to have the kids learn about crime scene investigations but also "...to get to know the officers better."