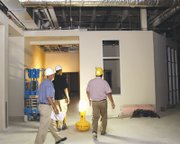 At first glance you'd never guess that Sunnyside High School, currently in the midst of a more than $30 million upgrade and renovation, could be operational and ready to accommodate more than 1,200 students and a host of staff members in just a few weeks time.
Sunnyside High School administrators were provided with a construction update this past Thursday morning from the district's construction manager, Braven Bendzak, and from representatives of Loofburrow-Wetch Architects and Petra Construction. And, the general message to administrators was that the project is on time to begin the school year on Tuesday, Sept. 6, and is running under budget.
Crews are currently putting the finishing touches on the new two-story classroom building and offices. Furniture is scheduled to be delivered and set up the week of Aug. 15-22. The parking lot will begin to have asphalt laid on Monday, Aug. 22, and is scheduled to be completed by Aug. 24.
SHS staff members are slated to return to their classrooms and offices on Thursday, Aug. 25. The schedule also calls for students to register for classes on Monday and Tuesday, Aug. 29-30, in the SHS auxiliary gym.
Grizzly Academy will be begin Monday, Aug. 29, at 8 a.m. starting in the SHS main gym. Freshman orientation for all incoming 9th graders will be on Friday, Sept. 2, at 8 a.m. in the school's main gym. The orientation program is designed to give students a head start in preparing for success at SHS by providing information on graduation requirements, goal setting, class expectations, study skills and more. Freshman Orientation will be held on September 2 in the main gym.