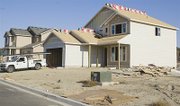 Two new homes in the Aho housing development carried Sunnyside to respectable numbers for new building starts during the month of July.
The two homes, on Apple and Asparagus lanes, have a combined valuation of $386,918.
One of the homes - a 2,100 square-foot, four-bedroom house - is valued at $225,220. The other house, valued at $161,698, is a one-story, 1,529 square-foot home.
Between them they generated about $5,000 in permit fees for the city of Sunnyside.
Otherwise, July was a slow construction month here, as the other 19 permitted projects had a combined value of only about $75,000.
As has been the trend all summer, a good number of new starts getting thumbs up were for re-roofing projects.
All told, 10 of the 21 projects last month were roofing related. Re-roofs accounted for a combined valuation of $49,213 and generated a little more than $1,000 in fees for Sunnyside's coffers.
The other nine projects permitted last month ranged from new housing siding to a business sign. They have a combined valuation of $26,000 and netted the city $1,265 in fees.