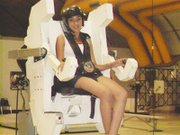 Earlier this month, Elizabeth "Liz" Garcia, who will be an eighth grade student at Sierra Vista Middle School in Sunnyside, had the opportunity to attend the U.S. Space Academy in Huntsville, Ala.
She said the experience was inspiring and provided her with a sense of hope.
"It was really fun...I thought I would be afraid to be away from my family, but I was comfortable once I arrived," said Garcia.
She was grouped with other students from Washington state and lived with five girls in what is referred to as a habitat for the week-long venture.
Garcia said there were a total of 13 students from her home state.
"We all got along really well," she said.
The five girls from Washington had a habitat on a floor specifically for girls, while the boys had two other floors on which they were housed.
Garcia said the days were long. The students had 30 minutes to prepare for breakfast, waking at 7 a.m., and 30 minutes to prepare for bed. Lights went out at 10 p.m. each night.
Upon their arrival the students were immediately immersed in the routine, turning in for bed since they arrived in the late evening.
The following morning was an orientation briefing and a tour of the space academy.
"Each day was different with a different leader helping us through our missions," said Garcia.
"We did so much I can't remember it all," she said.
Each night the students watched a different IMAX movie about space and space exploration, said Garcia.
Before being sent to their habitats, the students were de-briefed with a review of the day.
Some of the more memorable experiences at space camp for Garcia included zero gravity simulators.
"There's a ride called 'Space Shot' on which you are propelled high and dropped at a high rate of speed," said Garcia.
She said another zero gravity experience was had on "G-Force." Again, the simulator subjected the students to high rates of speed, giving Garcia the sense of being propelled against her seat.
Garcia enjoyed the rock climbing wall and riding on another simulator called "Mission to Mars."
"Mission to Mars simulates the experience of what it might feel like if you were on a space ship maneuvering through space...rocks and other space debris," she said.
On the simulator is a large screen on which images of the travel experience are projected. Garcia said it's supposed to be like looking out into a window at all the objects the ship is maneuvering around. The ship drops like a roller coaster and swerves.
"All your senses are filled with the experience," said Garcia.
She said the space camp adventure was one that has inspired her to help others.
"I would tell my classmates to reach for their dreams and never give up. If their dreams change, don't be afraid to go after the new dream with enthusiasm," said Garcia.
She has also developed dreams of her own as a result of her time at space camp.
"I see myself in the future working as an astronaut at the space camp after experiencing all that is possible there," said Garcia.
She said her passions lie in astronomy.
"I like learning about the universe and all that entails," Garcia said.
She said the trip would not have been possible without the support of her family, Sierra Vista Middle School Counselor Lupe Fraga and her teachers.
"Mr. Puente, my reading, writing and social studies teacher, helped me a lot," said Garcia.
She said, "I have a renewed hope for the future...it's gotten my spirits way up and I am looking forward to telling my classmates about it."