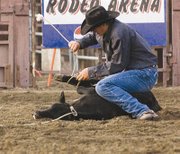 GRANDVIEW - Cowboys and cowgirls were out in full force for this past Friday and Saturday's Pro-West Rodeo at the Yakima Valley Fair and Rodeo.
Those attending the events each night were provided quite a show by Bo Segerman of Touchet, who earned the all-around honors.
He was the fastest cowboy in the team roping competition as the header. Segerman and teammate Gary Nybo of South Prairie were responsible for tying down a calf in 5.93 seconds to win $730. They bested Shane Erickson and Brent Falon, who were No. 2 in the Pro-West standings going into the weekend.
Segerman also earned 66 points and $486 in the saddle bronc riding competition, earning runner-up honors to Jacob Stacy of Soap Lake.
The remaining four saddle bronc riders were tossed before their eight seconds expired.
The bareback riders gave the audience a show, too. Nick Gutzwiler of East Wenatchee held on to score 74 points for top honors.
Runner-up in the event was Cash Kerner, who scored 70 points.
Only two bull riders were able to hold on to the Beard stock for more than eight seconds. They included Grant Weston of Toppenish and Adam Hollenbeck of Prosser, who earned 71 and 66 points, respectively.
Eleven more bull riders attempted to get in the arena atop the monstrous bulls, but were unable to hold on for the eight seconds required to score.
In the tie-down roping competition, it was the grandson of a local farmer that earned top honors. Seth Hopper lives in Stanfield, Ore. and is the grandson of Guy and Barb Roberts of Sunnyside. Hopper wrapped up a calf in 8.59 seconds.
Several of the tie-down roping competitors had a tough go of it as they got tangled up in their ropes this past weekend, but others were tough enough to overcome the blunders.
Another tie-down competitor who seemingly had no problems was runner-up Brett Hale of Tenino, who tied down his calf in 9.09 seconds.
In the steer wrestling competition, speed also was all important.
Gutzwiler, the bareback riding champ, was once again on top of his game. He leapt off his horse and wrestled his steer to the ground in 5.17 seconds for top honors.
Runner-up honors went to Seth Shelton.
It was Caleb McMillan of Soap Lake who prevailed in the breakaway roping competition in 2.11 seconds. Katie Waterston of Kamloops, British Columbia was a close runner-up in 2.34 seconds.
The speedy barrel racers also kept the crowd entertained. There were 10 competitors racing for cash.
Pam Capper of Cheney earned the top prize of $583 for racing through the barrels in 16.453 seconds. Katy Bemner of Ellensburg earned runner-up honors in 16.774 seconds, and a Mabton cowgirl, Cheyenne Allan, earned third place honors in 16.783 seconds.