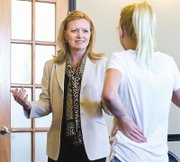 Four Sunnyside youngsters spent more than 12 hours last week learning how to properly greet someone, how to write thank you notes and how to take those skills into the real world at an etiquette camp held at Bon Vino's Bistro and Bakery.
The camp was brought to Sunnyside by Northwest School of Protocol Director Merrily Bjerkestrand, who wanted to plant the seeds of good manners here in the Valley where she grew up. She wants people to know that it "doesn't matter where you come from, it's what you bring with you."
The camp consists of three main programs covering first impressions such as grooming and posture, basic etiquette including writing thank you notes and public speaking, and how those subjects tie into the real world. The whole camp culminated in a tutorial dinner in which the students showed off their new skills.
Bjerkestrand said the youths were a wonderful group. Their enthusiasm was the reason she holds these types of classes. The skills that children learn in her etiquette class are a foundation that they can build on for future success, and the Sunnyside students did excellent work.
Bjerkestrand does the Etiquette Dinner at Central Washington University and works with businesses to improve manners and protocol in the workplace. She plans to do another etiquette camp next year.