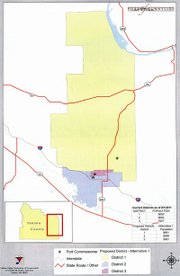 The Port of Sunnyside Commissioners Monday reviewed two options for re-districting based on the 2010 census.
Executive Director Amber Hansen said it is obvious which of the two maps should be most closely considered.
The commissioners would continue to serve the same districts, but the boundaries would be moved to adjust to the populations served within the districts.
Hansen said the boundary changes cannot be approved prior to a public hearing on the matter.