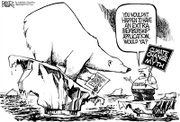 Think back to 1988-President Reagan was finishing his 2nd term, no one had cell phones or lap tops, and today's recent college graduates had not yet been born. 1988 was also the last time that the Endangered Species Act (ESA) was renewed by Congress.
After 23 years, the Endangered Species Act needs updating, modernizing and responsible improvements. The law as it currently stands is ineffective because it is failing to truly recover species, creates unnecessary and costly regulations that hurt jobs and economic prosperity, and is being exploited as a tool for expensive, debilitating lawsuits.
The ESA was first signed into law in 1973 and was designed to protect critically imperiled species from extinction. Unfortunately, in the United States, 1,374 species have been listed as endangered or threatened, including 582 fish and animals, and 792 plants. Of these nearly 1,400 species that are federally protected by the ESA, only 20 have been deemed recovered-meaning, that only 1 percent of the species that are 'protected' under these regulations have ever been removed from the list.
After nearly 40 years with only a less than 1 percent success rate, I think we can all agree that these species deserve better from the law.
Secondly, poorly drafted federal ESA regulations based on questionable science can literally shut down economic activity and U.S. jobs. I know that in Central Washington, countless regulations have been imposed under the umbrella of the Endangered Species Act, and it has cost our farmers, growers, foresters and our general economy significant job loss, higher energy costs and dimmed the economic vitality of far too many communities. And despite the lost jobs, hurt communities and millions spent towards aiding species, recovery simply hasn't occurred. Again, we can, and must, do better for both these species and Americans.
Lastly, we simply cannot afford the avalanche of lawsuits filed over the ESA. The current system has become paralyzed by costly lawsuits and court-driven decisions, which further act as a disincentive for diverse interests to work together to protect both species and our economic way of life. Today, hundreds of lawsuits and legal actions consume the U.S. Fish and Wildlife Service and the National Marine Fisheries Service, and ultimately leave taxpayers footing the hefty legal bills.
The House Natural Resources Committee that I am privileged to lead as chairman, has jurisdiction over the Endangered Species Act, and I am committed to examine the law and make necessary updates. The law, over two decades past its authorization, has failed to achieve its fundamental goal of species recovery, and has become a tool for extreme groups that use it as a weapon for lawsuits. Congress has a duty to act on the ESA's reauthorization and the law needs to be updated in a calm, sensible manner that ensures protection for vulnerable species while also respecting the need for job creation and a growing, prosperous economic future for our communities and nation.
- U.S. Congressman Doc Hastings (R-Pasco) represents Central Washington's Fourth Congressional District.