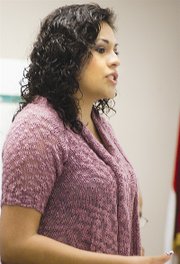 You have seen them around town; painting houses, hosting job fairs and soon hosting a health fair. The group is known as "Transformation Sunnyside."
Administrative Assistant to Transformation Sunnyside, Sarahi Bravo and its Executive Director Roberto Matus presented the coming health fair project to Rotarians, at their regular weekly meeting held Wednesday morning.
Matus said the average income in Yakima County is 37 percent below the state average. Additionally 32,000 individuals are uninsured and nearly 26 percent of those are children. Out of response to the health care statistics, Transformation Sunnyside decided to respond.
The community health fair was planned in conjunction with the Center for Hispanics Health Promotion to fight those statistics for Sunnyside residents. Additionally, resources will be available for area residents to hopefully provide long term health care.
The health fair is set for Saturday, Aug. 20, from 10 a.m. to 4 p.m., at Central Park in Sunnyside.
Bravo reported nearly 20 entities will be present hosting booths to check blood pressure and blood sugar, to offer nutrition classes and offer referral services. In attendance will be local medical agencies, dental, massage therapists, DSHS, Farmer's Insurance and many more. In conjunction with the program, the City of Sunnyside approved free use of the park and swimming pool for health fair attendees. Two swimming sessions will be available at 1 p.m. and 3:15 p.m. Attendees will also be provided a free meal.
The group hopes to reach at least 1,000 in attendance but is planning for more. Nearly 1,500 hot dogs and hamburgers are planned for the event. Residents will participate in the free health programs in addition to a healthy meal and snack options along with music provided by area radio stations.
Matus said the program will be free of charge to all residents because of community businesses offering monetary contributions to the cause.
The goal is to raise $6,500, to cover the costs of food, advertising and other costs to putting on the event.
"We are sitting about $3,000 short right now," he added.
Transformation Sunnyside is offering to mention businesses on radio airtime, who donate $500 or more for the event. Tax deductable donations can be mailed to P.O. Box 1570 in Sunnyside, to Transformation Sunnyside.