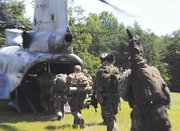 Every Marine is a rifleman, taught how to shoot accurately down range to suppress and destroy the enemy. A Marine scout sniper, however, hunts his enemy, tracking him down and gathering intelligence that can be used to win battles and save lives.
Snipers traditionally operate in small teams away from other forces, often with their team leader as the only commander for miles.
More than 15 Marines and soldiers underwent their final performance examination for the Scout Sniper Team Leader Course at Weapons Training Battalion last Thursday, Aug.11.
The purpose of the leaders course is to provide Marines and other military services with trained team leaders capable of changing the outcome of battles.
"Scout snipers are more than just professional marksmen," said Gunnery Sgt. Erick Findley, the staff noncommissioned officer in charge at WTBN. "The Marines are taught to effectively gather information, track or hunt their enemy."
The primary mission of a scout sniper is to conduct close reconnaissance and surveillance operations in order to gather intelligence on the enemy and the terrain which ultimately save Marine lives.
The scout snipers are broken down into six-man teams where each of them will take turns acting as the team leader. The team leader plans the entire mission for his team and then briefs them on every detail, everything from gear that will be needed to conduct the mission, to how and where head calls will be made.
"So much detail goes into these briefs that some can take up to three hours," Findley said.
For their final exercise, the scout snipers set up a forward operating base where the leaders brief their men on several different missions that would be accomplished. One of the missions for this class was to conduct surveillance on a known enemy territory with the possibility of a high value target.
Once the scout snipers were briefed, they geared up and called for a CH-46 Sea Knight to pick them up at the designated landing zone. After being dropped off they had to stealthily make their way to the target without being discovered and carry out the mission.
"I learned a lot from my initial course," said a corporal in the course.
For security purposes students' names are withheld.
"After going through the course, I have learned new techniques that would have been helpful in my last deployment, like how to brief my men before we go out on a mission," said the corporal.
Confidence was something all of the scout snipers took away from the four-week training course.
"As an Army sniper all I knew before this course was just how to shoot," said a U.S. Army sergeant enrolled in the course. "A Marine scout sniper has a lot more responsibility. They go out and gather intelligence, call for fire and are trained to take long-range shots."
- Lance Cpl. Emmanuel Ramos, a Sunnyside native, is a combat correspondent for the U.S. Marine Corps.