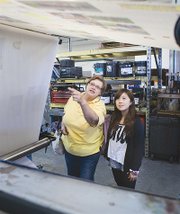 For Momoko Ito, yard sales and rodeos were strange new experiences to enjoy in the United States.
Ito, an 18-year old university freshman from Narita, Chiba Prefecture, Japan, is halfway through a 20-day visit to Washington state through the Lions International Youth Exchange program. Tomorrow she leaves her hosts Julia and Sarah Hart of Sunnyside to go to a new host family near Shelton.
In her 10 days in the Yakima Valley, she has visited the Toppenish Mural Museum, seen the Teapot in Zillah, eaten a giant Miner's hamburger, picked cherries, visited a mint still and a printing press, and been to Grandview where she saw the rodeo and rode in the parade on the Lions Club float.
Some American mannerisms are odd to Ito, such as our abundance of hugs and habit of direct eye-contact when speaking to another person. She finds everyone to be friendly, and has enjoyed the hospitality of the people in the valley. She doesn't want her mother to know, but she wishes she didn't have to go home. She says the time has gone by very quickly.
Over the last 10 days of her visit, Ito hopes to get a chance to see Forks, as she's a Twilight fan. The small town on the Olympic Peninsula is where the popular Twilight series is based. She was able to visit Leavenworth earlier.
Ito plans to major in business administration this fall at the University of Tokyo. Her father is a postmaster and her mother works at the post office. She has two younger brothers.
This is not Ito's first experience with the United States. When she was in high school she was part of a dance troupe that went to a competition in Florida.
The Lions International Youth Exchange program introduces youth to other cultures through visits with host families. The Sunnyside Lions Club sponsored Ito's visit to the Yakima Valley.