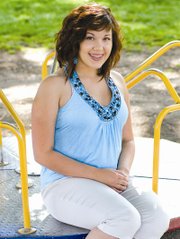 Hoping to inspire other girls and help them understand there are many choices in life is Cheyenne Schultz, a candidate for the 2011-12 Miss Sunnyside title.
She said there are ways to impact the community, including helping youngsters through the Girls 180 program sponsored by Life Options.
"I want to help young girls learn about abstinence and how the choices they make can impact their lives," said Schultz.
She said it happens more than she would like to see that other girls feel they must behave a certain way in order to feel accepted.
"We all have similar struggles...through Girls 180 girls can learn how to work through those struggles, giving them hope for the future they can be proud of," said Schultz.
She chose to run for the Miss Sunnyside title to represent her community in a positive light.
"It's a way to give back," said Schultz, stating the community has supported her throughout her life and there is much about Sunnyside with which she is proud.
The Miss Sunnyside court, she said, is provided opportunities to reach out to others, exhibiting the positive aspects of the community.
"That's important because the Miss Sunnyside court has the ability to teach others about Sunnyside in a way they may not otherwise learn," said Schultz.
She is the baby of her family, one of four girls. Her parents are Rita Gutierrez and Dean Schultz.
Schultz's mother told her about Life Options.
"I began to learn about it and really felt a strong desire to work with them so I could help other girls...I really fell in love with it," said Schultz, who has witnessed the effects unplanned pregnancies have on the lives of teen mothers.
"I believe they need to know there is someone out there that cares and is supportive of them. I want them to find a hopeful future," she said, adding, "Many girls need hope whether they are pregnant or not."
Schultz is a volleyball player, cheerleader for the wrestling program, a track team member and a member of the Pep Club at Sunnyside High School.
She aspires to be a forensic scientist and plans to attend the University of Washington to study the field of forensics.
"I am a big fan of CSI and believe in helping law enforcement solve crimes," said Schultz.
Science and math are two of her favorite academic subjects, but she will be reaching beyond her comfort zone in the Miss Sunnyside Pageant to share a talent she learned specifically for the occasion. Schultz will be performing a sign language interpretation of the song "You Raise Me Up" by Josh Grobin.
"My father's wife has a nephew who is deaf and uses sign language...it's beautiful and a fascinating skill," she said, stating she learned how to sign to the song via internet videos.
"I thought it is a unique skill and I wanted to share it at the pageant," said Schultz.
Her sponsors for the Miss Sunnyside Pageant, which will be staged Sept. 17, are Lower Valley Credit Union, the Sunnyside Eagles Aerie and Alex Gutierrez.