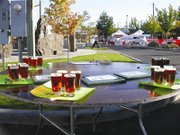 YAKIMA - The annual Fresh Hop Ale Festival in Yakima will be Saturday, Oct. 1, this year.
The event, scheduled from 5 to 10 p.m., features beer and wine from local brewers and wineries.
This year's craft breweries competing against one another for awards will include Ninkasi Brewing Company, Bridgeport Brewing, Lagunitas Brewing Company, Laughing Dog Brewing, Snipes Mountain Microbrewery, Georgetown Brewing Company, Full Sail Brewing Company, Laht Neppur Brewing Co., Deschutes Brewery and others.
Home brewers will be competing for awards, as well.
Musical entertainers Radioactive and Open Road will be on hand to keep things lively for those attending the event.
The annual Fresh Hop Ale Festival will be at Yakima's Millenium Park and proceeds benefit Allied Arts of the Yakima Valley. This event provides nearly 20 percent of the organization's program budget.
VIP tickets for a table of 10 are available at $700 or $70 per person. VIPs are seated at a VIP table, receive limited edition VIP glasses with original artwork by Sarah Fischer of Invisible Ink and $100 in scrip. Access to a VIP tent, featuring the top three breweries and local wines is granted, and new complimentary hors d'oeuvre trays with gourmet meats, cheeses, breads and more are provided for VIPs courtesy of Sports Center Restaurant. VIPs are also treated to a special reception from 4 to 5 p.m.
To reserve VIP tickets, mail checks to 5000 W. Lincoln Ave., Yakima, WA 98908 or to use a credit card, call 509-966-0930.
General admission tickets are available at the cost of $30 for pre-sale, and $35 at the gate. General admission ticket holders will receive a commemorative beer glass and $6 scrip.
Those attending the Oct. 1 Fresh Hop Ale Festival must be 21-years-old or older and ID is required for admission.
photo courtesy of Allied Arts of Yakima Valley
Yakima Valley community members are invited to attend the annual Fresh Hop Ale Festival in Yakima Oct. 1. The event benefits Allied Arts of Yakima Valley.