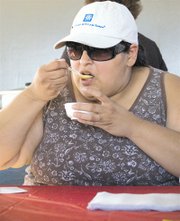 GRANGER - Granger's annual Menudo Cook-off is set for Sunday, Sept. 4.
In addition to the traditional event, a car show and a volleyball tournament are also slated for that day at Granger's Hisey Park.
The events will happen all day Sept. 4.
Last year there were more than a dozen entries in the cook-off, which has a top prize of $300.
This is the chance for local cooks to show off their skills at making the traditional Mexican dish.
Entries are being accepted by Judy Russell, who can be contacted at 509-854-2400 or 509-305-7247.
Judging for the cook-off begin at 3:30 p.m.
Russell explained what menudo is, stating it is a soup made of beef stomach in a clear broth or with a red chili base. She said lime, onions, cilantro and oregano, as well as hominy and crushed red chili peppers are traditionally used in the making of the soup.
"The popularity of menudo in Mexico is such that Mexico is major export market for stomach tripe from the U.S. and Canadian beef producers," she said.
Menudo entries must be ready between 2:30 and 3:30 p.m. the day of the cook-off. A small crock pot of the soup is all that is necessary for an entry. Walk-in entries will be accepted.
A car show will be staged that day, as well. Entries can be made by calling Jose Zuniga at 509-314-1377.
For the volleyball tournament, entries must be made by calling Roy Cardenas no later than tomorrow, Aug. 20. He can be reached by calling 509-830-7223.