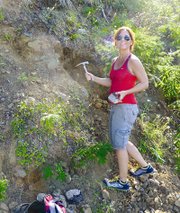 Is your life boring? Do you want a thrill? Want to spice up your marriage and maybe even find your early retirement riches? Then what are you waiting for? Run, don't walk to the Okanogan!
I can't begin to tell you how much fun I just had taking an outrageously exciting trip to Okanogan country here in Washington state. The weather was beautiful, the people were wonderful, and three days on the road was extremely affordable.
My wife Kathy and I wanted to plan a trip up to the mountains and we were having some difficulty making a decision because we wanted to visit someplace new and someplace where we could find open spaces and friendly people. We wanted to see wildlife, and we didn't want to spend a lot of money. Where; you might ask is such a Shangri-La? Well, let me tell you friend, we found it in the Okanogan!
Our trip started out as we drove from the Tri-Cities north and we spent our first day at the world famous Omak Stampede. Now, that's what I call a rodeo. It's very easy to see how much the folks in Okanogan country love their rodeo because I have rarely seen so much enthusiasm and crowd participation anywhere as I have at the Omak Stampede.
The Stampede is celebrated by folks from all over the USA (including a large participation by the Indian tribes), and Canada. The Stampede runs for four days during the second week of August and is filled with some of the most remarkable talent I have ever witnessed. There was a carnival, rodeo, suicide race and a huge Indian encampment (which I found to be particularly fascinating).
It was easy to find, a place to stay for the evening and if you are so inclined, there are many available camping spots within easy driving distance. Don't forget to check out Omak Lake while you are there and visit the incredible balancing rock. If you want to camp at the lake please visit the Colville Tribal website for permit fees and information (http://colvilletribes.com/).
Our next day took us west to the town of Twisp. The town is beautifully located in the sleepy Methow Valley. I would best describe the Methow Valley by a clock I saw on the wall of a small diner. The numbers were all misarranged on the face and positioned at the bottom of the clock near where the six would normally be positioned. The words "Who cares what time it is" were scrawled across the face. I soon came to realize that time truly wasn't important in the Methow Valley and that everyone I met wasn't really under the influence of some strange new drug of happiness but rather, it's the easy attitude of folks that kept them smiling and friendly.
We continued our trip by heading up to the mountains outside of Twisp. As some of you have read in my past columns, I most often go prospecting on my trips and this one was no different. I happened to go to a gold mining claim owned by a friend of mine and dug around with my small pick trying to find some gem material rather than gold. If you don't have a friend with a gold claim please don't despair, just check out the Washington Department of Fish and Wildlife website for information on rules to abide by when conducting your own mining activities. Some really great information can be found at http://wdfw.wa.gov/licensing/mining/. Also, you can download the Washington state pamphlet on recreational gold panning at http://www.dnr.wa.gov/Publications/ger_gold_panning.pdf. This pamphlet will provide you with great information to help you get started and the pamphlet will tell you where to go for recreational gold panning. I would not recommend paying money to private companies that sell gold maps since many of these companies get their information from state and federal records (records that are available to many of us at no cost).
Our third day took us back east through the two towns of Okanogan and Omak and onward at a southeastern journey through the Colville Indian Reservation. What a remarkable place full of beautiful landscapes, wonderful history and fantastic sites of interest. I could have easily spent a week or even a month exploring the reservation.
I did stop by the Bureau of Indian Affairs office outside of Nespelem and chatted for a while (even though they were closed). They were more than willing to just chat and give me a personal lesson of how the reservation is managed. They also told me about the Indian museum located near Grand Coulee Dam. And by the way, watch out for the deer crossing the road. They are everywhere and I almost hit one with the car.
I think the best way to sum up the trip is to describe the time I had at a small diner just off Highway 97 in the town of Okanogan. The sign said "open" so we decided to stop in and see what they had to offer. I should begin by saying that this wasn't a formal diner; it was really the local auction yard for cattle and other livestock. The building was a mess and when we walked through the front door I wasn't exactly sure I was even in a diner at all. We were standing in the front entry of the auction yard and it wasn't until I realized that there was an adjacent and deeply battered door leading into another room that I knew there in fact was a diner in the building.
I soon realized this was the sort of eatery that Anthony Bourdain would love to death. We certainly did not need reservations to find a seat; as a matter of fact, the seats were worn and tattered from thousands of cattlemen and cowgirls who sat there before us. These looked like the type of chairs that one would normally have thrown out in the trash 10 years earlier but strangely enough I felt such a presence and history by just sitting there that I didn't mind that not one of the tables matched each other.
After ordering a couple of eggs and toast (no menus necessary) Kathy and I sat there taking in the atmosphere. There were posters all around of county fairs and cattle auctions from previous years. And I don't mean that these were part of the décor, these were honest posters that were meant to let local folks know what was going on in this wonderful town.
I heard people walk in and greet each other. They would sit down and chat; others would come over and offer a big hug to their neighbors and friends. I heard stories of relatives who were ill and recently passed away. I heard about the kids who were entering the 4-H club and others who have recently joined the military. Mostly I heard a lot of talk about nice small town people who cared a lot about each other and were truly interested in the well being of their neighbors.
I heard about people that I have never seen and probably never will know. But for that brief period, as I sat and slowly drank my coffee, I felt like I had become part of the community. I was taken for a while to a place where all of a sudden time didn't have any meaning for me either, I had almost lost touch with the fact that I was from the Tri-Cities and I had a job to go to on Monday.
So as I sat there and soaked up the moment I tried to remind myself that this wasn't really Shangri-La and this wasn't one of those hauntingly wonderful paces that Rod Sterling wrote about in the Twilight Zone. This place was real and I was there and I knew I could come back as often as I wanted. This was Okanogan country.
If you would like more information about gold mining or visiting Okanogan country please feel free to contact me through my web site at www.pappgems.com. I'll be happy to answer any questions you have.
Happy trails.
-
More like this story