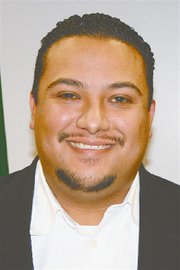 With only one candidate expressing interest in filling the vacancy on the Sunnyside School Board created when Miguel Puente stepped down earlier this year, the school board made a surprise move last night.
The school board elected to appoint Puente to his former seat after an executive session meeting in which they discussed the application of Luz Rodriguez.
She applied for the seat, expressing she was only interested in filling the vacancy for the short-term, according to Schools Superintendent Dr. Rick Cole.
Cole said, "She was a good candidate."
Puente vacated the seat earlier this summer because his wife applied for a teaching position. He could not be on the board while her employment was considered.
As a school board member, he will have to recuse himself from any contract negotiations and decisions regarding teaching salaries.
Puente said he received a call from school district officials, as did the other school board candidates seeking public office this fall, inviting him to last night's retreat.
But, there was a request attached to the invitation. He said he was asked if he would also be interested in filling the vacant seat leading up to the election.
"They called me in the afternoon requesting my presence. I was told the board would meet to consider the candidate for the seat," said Puente.
Cole said the board strongly considered Rodriguez, the lone applicant seeking the vacancy, but decided that wasn't the direction the directors felt they wanted to go.
With the start of the new school year days away, and with budget deliberations not yet finalized, the much more experienced Puente was considered a stronger candidate for the open school board seat.
"I wasn't surprised they wanted me to fill the seat, but I was flattered they'd reached out to me to refill the position...I was flattered and honored they wanted me to rejoin them," said Puente.
The school board met in executive session at the beginning of the retreat held last night.
Following the executive session, Cole said there were several factors considered in the decision to appoint Puente to the vacant seat.
Statutes were met and Puente is the only candidate on the Nov. 8 General Election ballot for the position.
"He is running unopposed," said Cole.
School Board Chair Steve Carpenter said, "The appointment makes sense."
He said the school board will be entering into budget discussions and other business matters during which Puente's experience will be valuable.
Puente sat in on the school board retreat, but will not be officially on the board until he is sworn into office at the Thursday, Aug. 25, regular school board meeting.